First some background, I've calibrated my Printrbot Plus 3D printer's extruder (using Repetier v0.56 for Mac and Slicer for Mac v0.9.9) to make sure the flow of filament is accurate using Josh Marinacci's super simple technique (see Calibrating the Extruder section of this page). And I periodically check the accuracy of my prints by printing Matthew Croucher's 5mm calibration cube.
The height and width of my prints are very accurate to their intended dimensions, but I struggle with small parts or small details that extend out from the faces of my models, especially toward the top of my prints. See this image of the 5mm calibration cube as an example.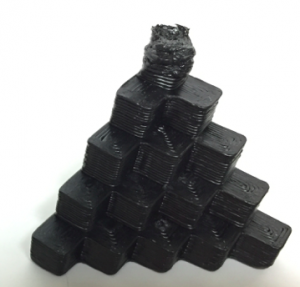 The overall print quality and dimensions are accurate and square, but the top 5mm cube is very deformed. What's more interesting is that the cube starts okay (although that is hard to see in the photo) for the first 3-4 layers of the top cube look pretty good and form a base of the square. But for layers 5+ of the top cube, it quickly becomes very deformed.
It becomes deformed because the hot end that is extruding is running in such a tight/small area, that the filament never gets a chance to cool properly. Using Repetier/Slic3r, the extruder does not have a configurable option to slow down for just the top of the cube and the filament does not have a chance to cool properly. Sure, I could slow down the entire print to be a speed that is okay for the top to print properly, but that would make a 20 minute print take hours, which is not acceptable. As the top of the cube is printed, lower layers of filament are not cooling and are not stable, so subsequent layers pull on the lower layers and cause it to be deformed. The problem is further worsened by the filament getting stuck to the bottom of the extruder's hot end and causes the filament to be further deformed.