I blogged previously on the topic of iBeacons, which use Bluetooth Low Energy (BLE). BLE is a low energy Bluetooth implementation that allows devices to run for months or years using only a tiny battery.
A client told me about a cool app, Knock, that does one simple thing (and very well)…it uses BLE to unlock your Mac when you and your phone are close to your Mac. The app works by having two pieces of software. One piece runs on the iPhone and uses Bluetooth to connect to the other piece of software running on a Mac.
The typical use case is you walk up to your Mac and want to unlock it. If your iPhone is in your pocket, the knock app will wakeup automatically and you just knock on the iPhone whilst it is in your pocket. Each time you knock, there is a visual indicator on your mac (blue ring emanating from the center of your login screen). Just two knocks are required to unlock your Mac.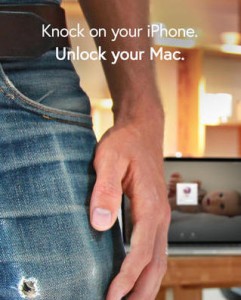 Obviously, there is a pairing process to make sure not just anyone can unlock your Mac. And the iPhone app will not work after the phone is rebooted until the phone is unlocked for the first time, to help provide additional security.
This app is far from a necessity, but it is very cool and certainly convenient if your hands are full when you are using your Mac (maybe while cooking). It represents to me just the beginning of what interesting and unique apps we will begin to see as we enter this new world of mobile and the Internet of Things.