Unfortunately, it is just a matter of time before your 3D printer's hot end tip (or sometimes referred to as the nozzle) will clog. Actually, there are some 3D printers that require proprietary filament spools that provide a new tip with every filament spool. These printers are meant to be maintenance and hassle free, but have the restriction of not being able to use any filament available in the marketplace. All Printrbot 3D printers that use a Ubis ceramic hot end use the same hot end tips. I use the same .4mm hot end tips on my Printrbot Plus Metal, Printrbot Simple Metal and Printrbot Plus v2 (Model 1306).
The hot end tip screws onto the bottom of the Ubis Ceramic hot end. Below is a pictures of a Ubis Ceramic hot end. The shiny gold colored tip on the far right side is the hot end tip. Most of the tip is covered by the red insulating material: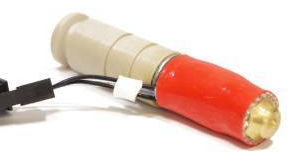 The following pictures show a used, clogged tip (left) and a new tip (right) from Printrbot: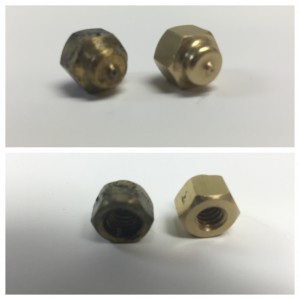 The behavior of your 3D printer makes it obvious when your hot end tip is clogged. If your printer has been printing properly and you start to see one of the following symptoms, you need to unclog or replace your hot end tip:
Nothing is coming out of the hot end tip

and you you may hear a clicking as your extruder motor tries to push the filament into the hot end and it is slipping (and probably chewing through the filament)

The melted filament is coming out inconsistently

from the hot end tip and instead of seeing a nice bead of melted filament, you see small blobs of filament with gaps between the blobs. It seems like the filament is sputtering out of the hot end tip.

Filament exits the hot end tip at an angle

and is not falling straight down, and instead is pushed at an angle. In severe cases, the filament will get balled up on the hot end tip because the angle is so extreme. This symptom might only be able to be seen by raising the z axis up 50mm or so from the bed and extruding 10+mm of filament.
If you are experiencing symptom #1 or #2, you need to remove your hot end tip and either clean it or put a new tip on your printer. If you are experiencing symptom #3, be on the lookout for the clog getting worse and escalating to symptom #1 or #2.
Removing the hot end tip: On a Printrbot, you need to change your hot end tip with the machine at operating temperature (I set mine to 210 degrees Celsius for PLA and 240 for ABS). You have to be careful to not damage your thermistor that is located on your hot end underneath the red insulating material. I use an 11mm open-ended wrench to loosen and mostly unscrew my hot end tip, and use needle nose pliers to finish unscrewing the nozzle as it is VERY hot and I don't want to drop it on the printer bed or anywhere else where something could be burned.
Cleaning the tip: You can search online and read about different ways to clean a tip. I have had mixed luck and like to have new tips available because you will undoubtedly encounter a clogged tip while you are printing something. You don't want to have to wait for a tip to arrive in the mail to finish a print, so buy some extra tips and have them around.
Although it has not worked for me, some are able to unclog their tip by turning their printer's hot end to a very hot temperature, say 250 Celsius, and leave it at this temperature for an hour or so. The idea is that the stuck filament will get hot enough to melt and ooze out of the tip.
For tips clogged with only ABS filament, try removing, cooling and soaking your tip in acetone and attempt to open the nozzle (hole) with a sewing needle that has a fine point (or consider small bits that can fit inside printer hot end tips). For tips clogged with only PLA, you can try heating the tip over an open flame to heat the filament and scrape it out with a needle. I print most with PLA and have had very limited success cleaning hot end tips.
Reinstalling the hot end tip: To reinstall the nozzle, make sure your printer's hot end is at an operating temperature and start screwing the nozzle on with your fingers. Once your tip is grabbing the threads, use a 11mm open-ended wrench to finish tightening. The hot end tip will get hot VERY quickly. I tighten the hot end nozzle so it is snug (maybe a 1/8 turn after i start to feel resistance) and leave it for 10 minutes with the hot end still at operating temperature. Once the tip has come up to temperature, the tip will expand a bit, and then I use the 11mm open-ended wrench to again snug the tip tight. You do not want to crank down on the tip too much! If you skip the final step of heating your tip and doing the final tightening, you will likely have filament leak from the top of your hot end tip (not good).
When you change your tip, it is very possible that the new tip may not be the exact same height or the threads may cause the new tip to sit at a different distance from the printer's bed. Once you install your new hot end tip, you should make sure you don't have to manually adjust your z azis end stop (for manual z height machines) or adjust your z offset using M212/M500 for Printrbot machines with auto leveling. Below is a pictures of my original and replacement tip in digital calipers showing a .21mm difference, which is significant enough to require adjustment of my z height.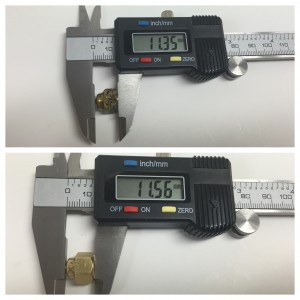 That's it. Please leave comments if you have found better ways to clean or change your tip…